Garage Door Roller Spindle Finder - WS Garage Door Spares
See below our chart outlining the full range of roller spindles that we can supply. Opposite you can see a diagram showing how the existing roller spindle should be measured.
For any questions, our customer service team can be reached on 01704 331 705.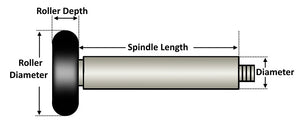 SKU
Manufacturer
Base Image
Name
Spindle Overall
Length
(mm)
Length Under
Roller
(mm)
Spindle Diameter
(mm)
Roller Diameter
(mm)
Add to Bag
WS202
Garador
Garador Nylon Rollers
na
na
na
21

£5.95

(

£4.96

Ex VAT)
WS197
Garador
Garador Mk3c Roller Spindles
85
65
12.7
21

£15.50

(

£12.92

Ex VAT)
WS208L
Henderson
Henderson Anti-Drop Spindle & Bracket
85
72
12
33

£27.00

(

£22.50

Ex VAT)
WS212
Henderson
Henderson Pre-Premier Roller Spindles
124
114
12.7
22

£15.00

(

£12.50

Ex VAT)
WS191
Garador
Garador C-type Roller Spindles (Pre-1999)
85
60
12.7
21

£15.50

(

£12.92

Ex VAT)
WS211
Henderson
Henderson Pre-Premier Roller Spindles
105
95
12.7
22

£15.00

(

£12.50

Ex VAT)
WS181
Cardale
Cardale CD45 Roller Spindles
162
150
12.7
22

£15.00

(

£12.50

Ex VAT)
WS213
Henderson
Henderson Retractable Roller Spindles
105
85
12.7
46

£17.50

(

£14.58

Ex VAT)
WS204L
Garador
Garador Roller Bracket Assembly
na
na
na
48

£38.95

(

£32.46

Ex VAT)
WS207L
Garador
Garador/Hormann Safety Latch & Roller
na
na
na
46

£35.00

(

£29.17

Ex VAT)
WS210
Henderson
Henderson Premier Roller Spindles
85
70
12.7
32

£18.60

(

£15.50

Ex VAT)
WS203-1
Garador
Garador Retractable Roller Spindles
105
95
12.7 / 16
46

£18.00

(

£15.00

Ex VAT)
WS195
Garador
Garador Mk2 & S/S Roller Spindles
145
120
12.7
21

£15.50

(

£12.92

Ex VAT)
WS214
Henderson
Henderson Spindle Brackets
na
na
na
na

£22.80

(

£19.00

Ex VAT)
WS221
GarageDoorSpares
Universal Garage Door Roller Spindles & Top Brackets
168
157
12.7
46

£36.00

(

£30.00

Ex VAT)
WS184
Cardale
Cardale Retractable Roller Spindles
135
120
12.7
46

£16.20

(

£13.50

Ex VAT)
WS196
Garador
Garador Mk3 & S/S Roller Spindles
105
80
12.7
21

£15.50

(

£12.92

Ex VAT)
WS200
Garador
Garador C-type Roller Spindles (1999-2002)
92
75
12.7
21

£18.83

(

£15.69

Ex VAT)
WS217
Marley
Marley Retractable Roller Spindles
125
110
12.7
46

£19.50

(

£16.25

Ex VAT)
WS219
Wessex
Wessex Retractable Roller Spindles
125
112
12.7
46

£21.30

(

£17.75

Ex VAT)
WS180
Birtley
Birtley Retractable Roller Spindles
168
157
12.7
46

£19.20

(

£16.00

Ex VAT)
WS187
Cardale
Cardale Wheel Spindle Assembly
155
na
13
na

£30.00

(

£25.00

Ex VAT)
WS185
Cardale
Cardale Short Roller Spindles
65
55
12.7
22

£17.50

(

£14.58

Ex VAT)
WS199
Garador
Garador Mk4/F-type Spindles
89
na
12.7
na

£34.50

(

£28.75

Ex VAT)
WS215
King
King Roller Spindles
135
125
12.7
22

£19.50

(

£16.25

Ex VAT)
WS209
Henderson
Henderson Double Merlin Roller Spindles
105
95
16
22

£19.50

(

£16.25

Ex VAT)
WS183
Cardale
Cardale Mk2 Roller Spindles
123
112
12.7
30

£21.00

(

£17.50

Ex VAT)
WS194
Garador
Garador F3C Roller Spindles
85
55
12.7
22

£18.80

(

£15.67

Ex VAT)
WS218
Wessex
Wessex Canopy Roller Spindles
105
85
12.7
46

£21.30

(

£17.75

Ex VAT)
WS179
Birtley
Birtley Canopy Roller Spindles
140
127
12.7
32

£19.20

(

£16.00

Ex VAT)
WS189
Filuma
Filuma Roller Spindle
120
110
8
46

£17.95

(

£14.96

Ex VAT)
WS193
Garador
Garador Double Door Top Rollers & Brackets
114
100
11
48

£145.00

(

£120.83

Ex VAT)
WS188
Cardale
Cardale CD45 Roller Spindles (GRP Doors)
168
155
12.7
22

£20.40

(

£17.00

Ex VAT)
WS205
Garador
Garador Top Roller Bracket
na
na
na
na

£19.00

(

£15.83

Ex VAT)
WS201
Garador
Garador C-type Roller Spindles (1999-2002) (Genuine)
92
75
12.7
21

£45.00

(

£37.50

Ex VAT)
WS198
Garador
Garador Mk3c Roller Spindles (Genuine)
85
65
12.7
21

£45.50

(

£37.92

Ex VAT)
WS192
Garador
Garador C-type Roller Spindles (Pre-1999) (Genuine)
85
60
12.7
21

£45.50

(

£37.92

Ex VAT)
WS216
Marley
Marley Canopy Roller Spindles
108
88
12.7
21

£19.20

(

£16.00

Ex VAT)
WS182
Cardale
Cardale CD45 Roller Spindles (Genuine)
162
150
12.7
22

£33.48

(

£27.90

Ex VAT)