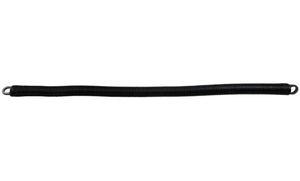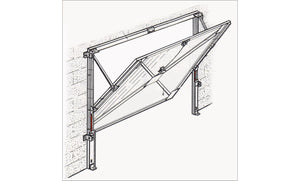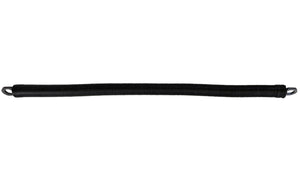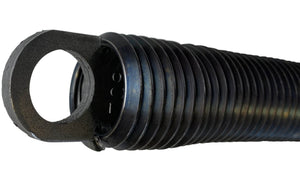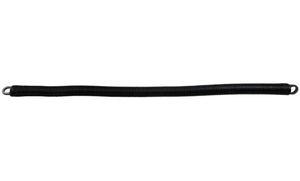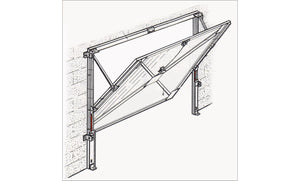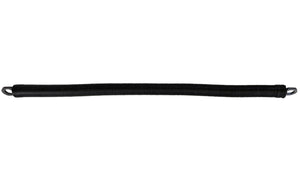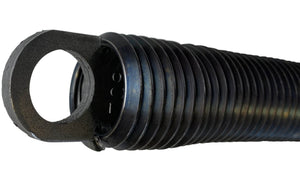 Garador DC/CM Garage Door Spring
Description
Garador garage door springs to suit DC or CM (double canopy) doors. These are double-width canopy doors which have short, horizontal tracks only supported by the frame. A canopy door will stick out by around a third of its height when fully opened.
The springs are located at either side of the door with two springs on either side of the door, except for some smaller double-width doors (9' wide) which may just have one. The springs may be encased inside white, plastic dust covers.
The link arm on Garador canopy doors is straight. This shouldn't be confused with Garador's double retractable doors which have a kinked arm.
It is always recommended to replace springs in pairs so that the door remains balanced.
Please note: If replacing only one spring, our standard product warranty does not apply. Please see the terms and conditions for more information.
How can I identify if this is the spring I need?
First, you can usually look at the back of the door which will have the model of the Garador garage door. This will then inform you whether these springs are correct for your door. The springs should measure 685mm in length and 28mm in diameter.
To determine the correct strength of spring you should find a three-digit identification number engraved in the end eyelet of the spring (7xx). Alternatively, please measure the width and height of your garage door and consult the spring table further down the page.
I have identified the spring model, what now?
Below you can find a table which has all the different Garador part numbers with corresponding numbers for each spring. The spring strength starts with 7, with this, you can look and see which spring to order. 
| | |
| --- | --- |
| Garador part no. | Spring no. |
| 4748  | 108-701 |
| 4749  | 108-703 |
| 4750  | 108-705 |
| 4751  | 108-707 |
| 4752  | 108-709 |
| 4753  | 108-711 |
| 4754  | 108-713 |
| 4755  | 108-721 |
| 4756  | 108-723 |
| 4757  | 108-725 |
| 4758  | 108-727 |
I am ready to install this Garador DC/CM garage door spring, how do I do it?
We have fitting instructions available which you can click on the 'Fitting Instructions' tab above, or you can find the PDF version by clicking here. We recommend using protective equipment, such as gloves and protective eyewear when removing and replacing your garage door springs.
It is always recommended to install the springs in pairs so that the door remains balanced. Please note that if you are replacing only one spring our standard product warranty will not apply. Please check our terms and conditions by clicking here if you would like more information.
I'm still unsure about a few things, how can I get in touch?
There are a couple of ways that most of our clients get in touch. The primary way is to simply call up at 01704 331 705 which will let you speak to our customer service team. 
Alternatively, you can send us a message either via email at sales@wsgaragedoorspares.com or via WhatsApp at 07481342447. If you include an image, all the better as that will make the identification process much simpler. We aim to respond to all communication within 24 hours, but the process can be expediated if you contact us during working hours.
Fitting Instructions
Click the PDF icon to open the printable fitting instructions for Garador DC/CM Garage Door Spring.
Raise the door into the open position, and secure the door to prevent the door from closing.
Place the eye of the spring over the hook of the bottom spring anchor bracket.
Using a cloth, or gloves, to protect your hands, grip the spring firmly and pull the spring up and hook the top eye over the spring anchor pin on the link arm, and locate the spring into the groove.
With the slotted end pointing down, clip the inner lower spring cover tube over the spring and lower downwards locating over the anchor bracket.
With the slotted end at the top, clip the outer spring cover tube around the spring, then locate into the anchor pin on the link arm.
Secure in place with the circlip on the end of the spring anchor pin.
Finally, repeat the procedure for any additional springs, and ensure the door is operating correctly.
Specification
| | |
| --- | --- |
| Spring Length | 685 mm |
| Spring Diameter | 28 mm |
| No. of Coils | 215 |
| Spring Wire Diameter | NA |
| Used on Door Type | Double width |
Delivery & Returns
Delivery Costs
Delivery Service

Weight
Cost
Delivery Timescale
Economy Delivery
(UK mainland only)
0 - 200g
£1.99
2-3 working days delivery via Royal Mail 48 (Untracked).
200g - 2kg
£3.49

Standard Delivery
(UK mainland only)

< 200g
£2.99
1 - 2 working days via Royal Mail 24 (untracked)
200g - 2kg
£4.99
2k - 20kg
£6.95
1 - 2 working days courier (Tracked)
20kg - 40kg
£14.99
40kg - 60kg
£19.99
60kg - 250kg
£29.99

Express Delivery
(UK mainland only)

0 - 20KG
£9.99
Next working day Courier (Tracked). Delivery Monday-Friday. Available for most items. Orders placed before 2pm.
20kg - 40kg
£19.99
40kg - 60kg
£29.99
Returns Policy
To return an unwanted order, please contact us within 14 days of receipt of delivery. Full returns information can be found here.