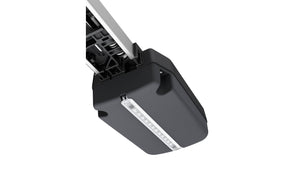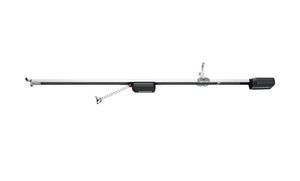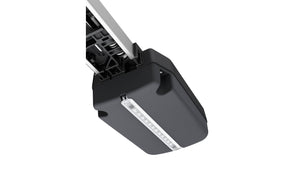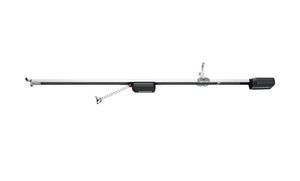 Sommer Base+ Garage Door Operator
Description
SOMMER S 9060 Base+ (plus) electric garage door operator.
For single or double garage doors (maximum door width 4.5m wide steel up and over door).
Pulling force 600 N.
Max door weight 120kg
Includes 2 Pearl Vibe 4-button hand transmitters.
Opener for up and over retractable or sectional doors garage doors.
Bow arm converter would be needed for canopy up and over doors; please see part number WS298.
Base+ - the garage door operator of the next generation
Faster. More secure. More intelligent. Brighter. This is the future of garage door operators. The intelligent carriage provides plenty of room for installing sophisticated accessories.
Accessories available:
Lock - Magnetic locking, to provide extra protection against burglaries; locks the engine in every position for attacking forces up to 300kg.
Senso - For measuring the temperature and humidity in the garage; the carriage will automatically open the door as much as is needed to provide perfect air circulation. Once the ideal value is reach the door will close again.
Memo - The Memo provides additional memory extension for up to 450 radio commands. If needed this data can be transferred to a new carriage.
Lumi+ - The Lumi+ provides additional LED-lighting for the ceiling control, which can be switched on or off via radio control.
Buzzer - The buzzer offers two alternative options: if the sounds sensor detects a burglary attempt, the alarm buzzer will play a loud warning sound. The warning buzzer on the other hand makes a sound whilst the door is closing.
Laser - The park position laser gives you an optical assistance to park your vehicle in the garage perfectly. The laser activates whilst the door is opening, and stays active as long as it is defined in the settings.
Relay - Additional relay for switching of a garage or courtyard light.
Motion - Uses a passive infrared sensor to detect moving bodies (humans, animals, etc.) and reacts to them. The operator lighting switches on automatically for safe movement in the garage.
Accu - In the event of a power failure, this can provide enough energy for up to 5 door cycles.
General introduction
Low-wear gear-sparing technology with travelling motor
Universal garage door operator for sectional doors, canopy doors, up-and-over doors, side hinged doors, lateral moving sectional doors, and sliding doors on buildings.
LED technology (long-lasting lighting): with 6 minutes of daily use the LEDs last 274 years.
Energy saving: <1 watt in standby mode, that is about 2 Euros of energy costs per year.
Garage door operator with communicating, bi-directional, encrypted rolling code radio system.
Six utility patent applications with 15 single items.
Lighting in travelling motor carriage always illuminates danger zone.
Made in Germany by company with 30 years of experience (since 1986).
Hardware and software developed by SOMMER.
Compliant with all relevant European standards (EN, R&TTE, ICE, ROHS, PAK).
Certifications for more than 1800 door and operator combinations.
EMC-compliance according to increased industry standard: SOMMER tests EMC-compliance with a higher standard then the current EMC-norm. Production is also quarterly inspected by TÜV (Technical Inspection Association).
Modern, compact design.
Additional Info
Handling
• modular construction system, universal use for ceiling or wall mounting.
• all in one box.
• easy to store / transport to site.
• pre-assembled one-piece rail possible.
• easy to extend.
• easy to shorten.
• wicket door safety device can be directly connected to motor carriage without spiral cable.
• safety edges can directly be connected to motor carriage.
Assembly
• pre-assembled operators.
• one-piece rail - faster installation.
• short installation time of operator on ceiling.
• variable ceiling bracket, can be mounted even after installation of the operator, horizontally and vertically adjustable, directly mountable to the ceiling with 1 screw.
• no additional power outlet necessary if mounted to the wall.
• short cable run to photocell if controller is mounted to the wall.
• integrated wall button, no additional installation time for push button.
• motor carriage can be set into the rail.
• standard model: motor carriage with inserted chain already in one of the rail parts.
• cable between controller and rail can be connected on front or back side of the rail.
Commissioning
• automatic limit recognition.
• individual closing pressure adjustment.
• only 1 reference limit switch, mechanically adjustable.
• automatic soft run ramp adjustment depending on door mass.
• gear-sparing soft start / soft stop.
Intelligent controller technology
• self-learning force curve with continuous adjustment, e.g. summer / winter.
• automatic learning.
• optimised speed profiles for fast opening and safe closing.
• standard-compliant operation of any door: measured force values can be entered, and the controller calculates the appropriate parameters for the specific door.
• door type selectable by DIP-switch.
• various connections on motor carriage SOMMER: wicket door safety device, OSE, EEPROM, humidity sensor, position laser, USART interface:
- wicket door safety device (also Reed switch, 12V mA)
- OSE or 8K2 SKL
- Socket for EEPROM (Memo)
- Socket for humidity sensor (Senso)
- Socket for solenoid (Lock)
- Socket for position laser
- Socket for Buzzer
- Socket for USART interface
• operation modes selectable via DIP- switches on motor carriage:
- DIP 1 = fully automatic closing ON/OFF
- DIP 2 = partial opening or light function ON/OFF
- DIP 3 = lateral moving door/sectional door ON/OFF
- DIP 4 = one-piece door/sectional door ON/OFF
• 4 pre-set radio channels:
- CH 1 pulse
- CH 2 partial opening / light
- CH 3 Defined OPEN
- CH 4 Defined CLOSE
• Connections ceiling / wall controller models base+ / pro+
- 2 or 4-wire photocell
- 24 V warning light
- external start button
- Socket for additional light Lumi Base+
- Socket for AKKU-Pack
- Socket for extension relay
- Socket for push button cable wall controllers pro+
• operation modes selectable via DIP-switches on ceiling / wall controller models base+ / pro+:
- DIP 1 = button 1 pulse / button 2 partial opening / light function or defined OPEN/CLOSE
- DIP 2 = warning light or door status indicator ON/OFF
- DIP 3 = activation / deactivation standby mode
- DIP 4 = spare
• active braking on "pulling" doors
• many possible settings via SOMlink
• coded, copy-protected firmware
Optional features, value adding tools
• alarm buzzer / warn buzzer: one device, two possible ways of use
• humidity sensor
• park position laser
• magnetic lock on motor rotor up to 300 kg force at any position, also ventilation position
• LED lighting, additionally plugable on wall controller base+/pro+
• option relay: an additional garage or yard light can be switched
• EEPROM module Memo: memory extension for up to 450 transmitter codes. Advantage in case of service: radio codes can be moved to new operator.
• all accessories are simple to install. Sockets are colour-coded and marked
• plug and play
• holder for car or wall optionally available for transmitter Pearl
• additional fitting for low headroom-use available
• swing-door fitting available
Radio
• bidirectional radio
• individual function assignment during transmitter coding according to customer wishes: tip, toggle partial opening, defined OPEN/CLOSE
• perceivable quality of the radio system by vibration feedback
• door status indicator
• defined light control
• comes coded from the factory
• additional shipment of transmitters without being on site
• reduction of electrosmog despite higher data rate due to use of packet mode
• improved reliability/range due to active signal routing (hop-function)
• 128-bit AES encryption (like home banking)
• auto-repeat function for comfortable opening while on the way to the destination
• distance related dead-man function for setup mode
Security
• motor can be engaged and disengaged in any position
• motor with high self-locking force and active closing function / counter pressure on burglary attempt at any position, even in ventilation function
• security in case of power failure
• magnetic lock at motor
• steel chain has a higher tensile strength than a belt, which means better burglary protection
• emergency release cord individually adjustable (long / short)
• permanent RAM/ROM-check
• cyclically tested safety devices
• intelligent distinction between the force necessary to move the door and an obstacle
• additional motor blocking detection
• software fulfils safety category II
• EMC test according to SOMMER company standard, which is twice as strict as official standard
• after emergency release the door can be secured in the open position / the door cannot fall down on weak springs
Service / Maintenance / Warranty
• no overhead installation, no ladder, when mounted on the wall
• SOMlink
• maintenance free
• long-term event memory
• service intervals programmable
• motor carriage can be taken out of rail without disassembling the rail
• galvanized, nickel-plated high-quality chain, therefore no wear and tear and no re-tensioning of the chain necessary
• steel chain does not need to be oiled because it does not move
• No oil stains on car or door
• Technical details
• Garage door measurements
Performance data
Description S 9060 base+
Art.-no. 8700V000
Pulling force 600 N
Maximum door weight 120 kg
Maximum door width in mm:
Swinging door 4500
Sectional door 4500
Up-and-over door 4500
Hinged double door 2500
Side-sectional door 2500
Lateral shutter door 2500
Maximum door height in mm:
Swinging door 2500
Sectional door 2500
Up-and-over door 2500
Hinged double door 2500
Side-sectional door 2500
Lateral shutter door 2500
Supply voltage 220V - 240 V AC
Nominal frequency 50/ 60 Hz
Memory cells of radio receiver:
transmitter commands 40
Standard movement range 2.750 mm
Maximum movement range with extension 4.942 mm
Maximum extension (2x 1.096mm)
Maximum rail length 7.500 mm
Switch-on time S3 40%
Operating temperature -25°Cbis + 65°C
emission value according to operating environment < 59 dBA (only operator)
IP- protection system IP- 21
Maximum pulling and pushing force 600 N
Nominal pulling force 180 N
Maximum current consumption 1,6 A
Nominal current consumption 0,49 A
Maximum input power 350 W
Nominal input power 95 W
Standby < 1W
Maximum carriage speed 240 mm/s
Delivery & Returns
Delivery Costs
Delivery Service

Weight
Cost
Delivery Timescale
Economy Delivery
(UK mainland only)
0 - 200g
£1.99
2-3 working days delivery via Royal Mail 48 (Untracked).
200g - 2kg
£3.49

Standard Delivery
(UK mainland only)

< 200g
£2.99
1 - 2 working days via Royal Mail 24 (untracked)
200g - 2kg
£4.99
2k - 20kg
£6.95
1 - 2 working days courier (Tracked)
20kg - 40kg
£14.99
40kg - 60kg
£19.99
60kg - 250kg
£29.99

Express Delivery
(UK mainland only)

0 - 20KG
£9.99
Next working day Courier (Tracked). Delivery Monday-Friday. Available for most items. Orders placed before 2pm.
20kg - 40kg
£19.99
40kg - 60kg
£29.99
Returns Policy
To return an unwanted order, please contact us within 14 days of receipt of delivery. Full returns information can be found here.